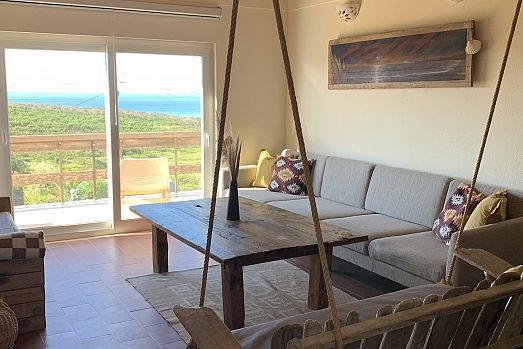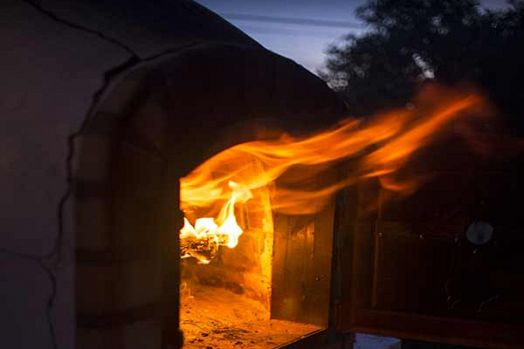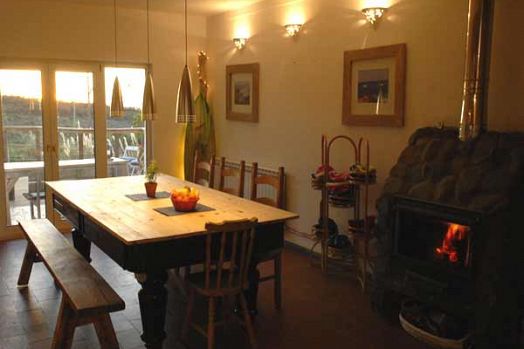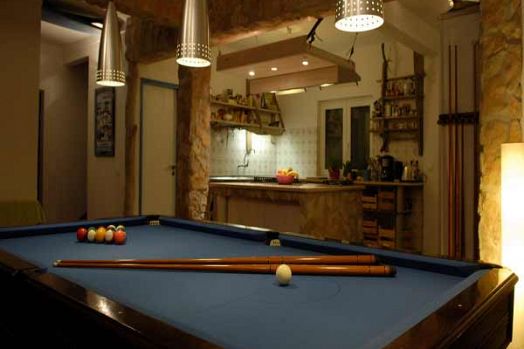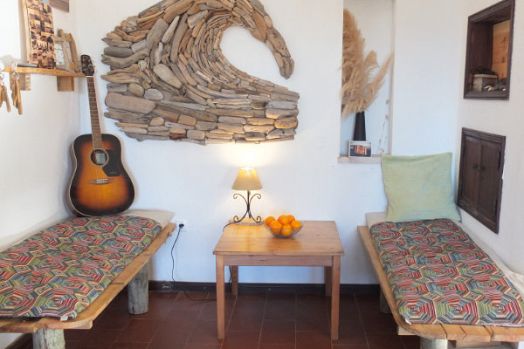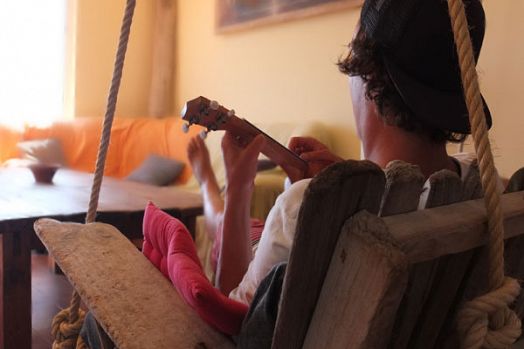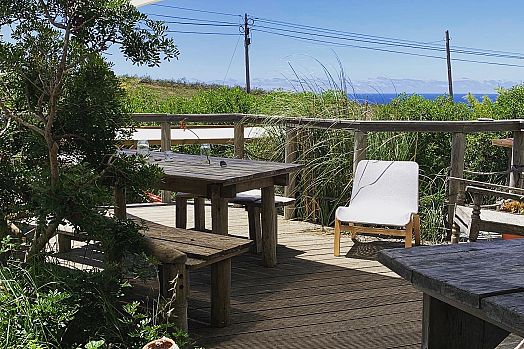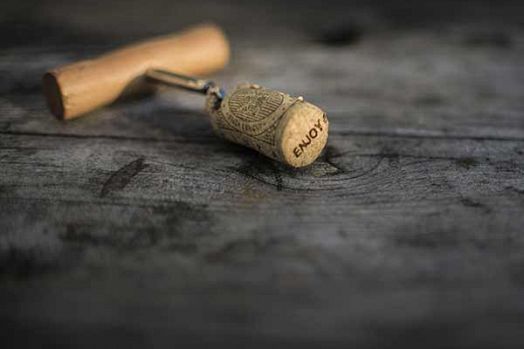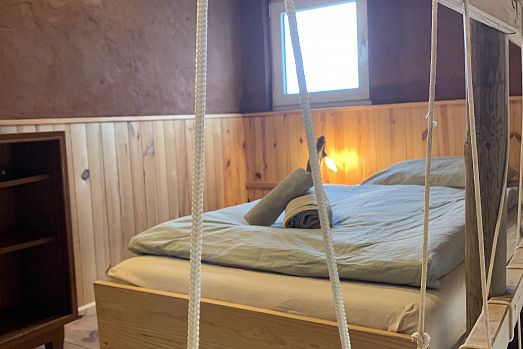 Arrifana Point View – Surfhaus Algarve
Ola Amigos, returnees and newcomers
Directly at the surf spot! "Bem-vindo" at the surf camp
Comfortable surf camp life – 365 days a year!
At any time of year: plenty of space for few people, an island of relaxation.
Directly at the spot! In Arrifana, on the beach. Together or alone – surf, bike, skate, do yoga, relax, listen to music, play pool, movie night, barbecue or bake pizza. More style & wellness in your surf holiday.
Winter Special
01.12.-01.03.
7 nights
4 days surf course (max. 6 p.)
7 days board & wetsuit
incl. beach transfer if necessary
7 nights
5 days surf course (max. 6 p.) + theory
7 days board & wetsuit
incl. video support, 1x surf coordination
incl. surf skate session or mountain bike tour
7 nights
7 days board & wetsuit
1 day surf lesson
incl. Roof Straps & Boardbag
test different boards
Feel at home at the surf camp, 250m next to the Atlantic Ocean.
In summer and in winter!
Free sea view
Any length of stay at surf camp
Any arrival & departure
Variable surf lessons & rental
Quiet south-west location in nature reserve
250 m from the surf camp to the water
850 m to Arrifana beach
4 other beaches within 6 km
all rooms with private bathrooms
2-bed, 3-bed, 4-bed rooms
Good mattresses
Central heating & fireplace
Fully equipped cosy communal kitchen
Pizza stone oven & barbecue in the surf camp garden
Several terraces & garden
2 living rooms
Surf school in Arrifana and Monte Clerigo
Surf equipment for every level
Plenty of room for everyone, plenty of room for the individual
Surf course day exchangeable into guided mountain bike tour
Pool, darts, table tennis
WIFI internet & computer at surf camp
Cinema atmosphere with laser projector
Surfboard & neoprene storage room
Rental mountain bikes
Yoga
Massage
Surfing equipment
Restaurants and beach bar within 1000m
Mini market in 3 km, supermarket, bank, etc. in 7 km (Aljezur)
Transport/shopping service via Housekeeper
… and much more!
Some impressions
We keep working on ourselves
and your surf house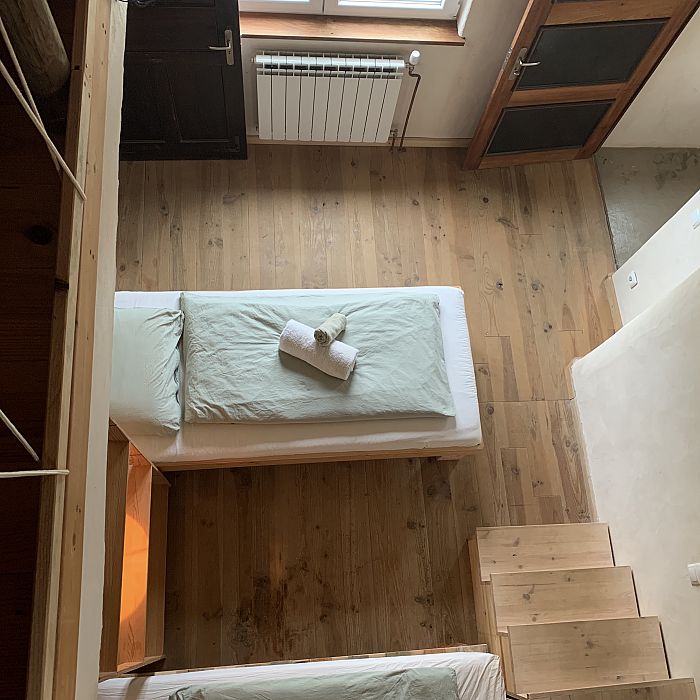 Your room
Sleeping and the like in your own room has to be comfortable – and showering too…We are constantly working on it: good mattresses, natural style, eco-materials and a bit of art… Your own bathroom always in your room.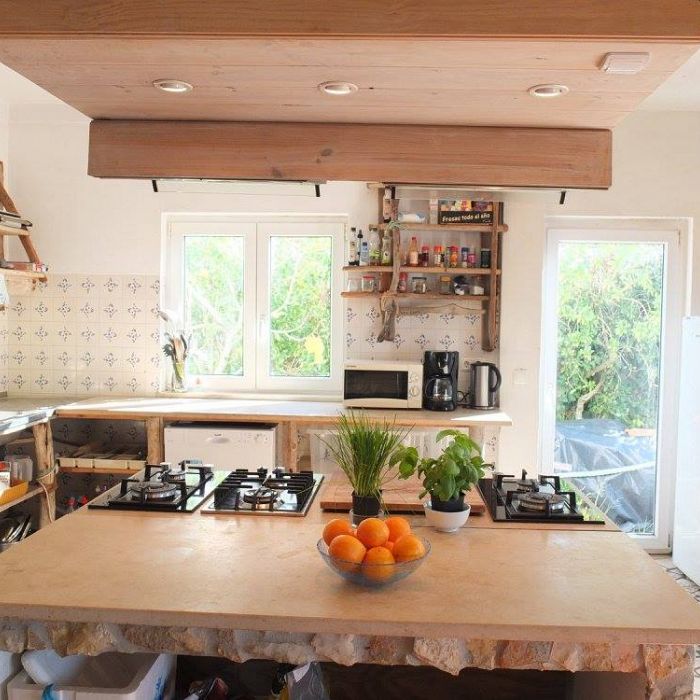 Your Surfcamp Kitchen
Garden herbs and spices from the Algarve, buying fresh organic vegetables and fruit from the region at the market with the housekeeper, fresh fish from the fisherman next door…just waiting for the stone oven, grill and gas flame! Sizzling creative treats together!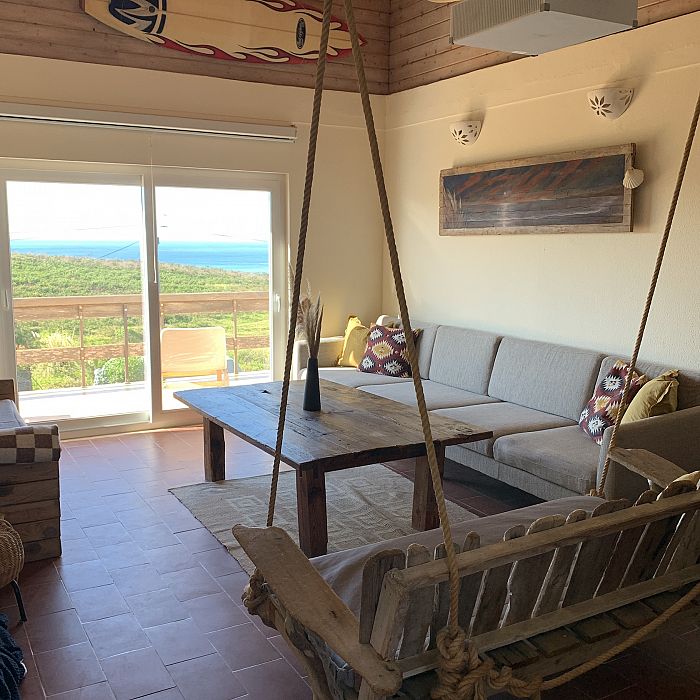 Your living room
Quiet corner, multifunctional pool table, dining table, lounge, animation, cabaret, dance bar or media centre – surf culture at the surf camp.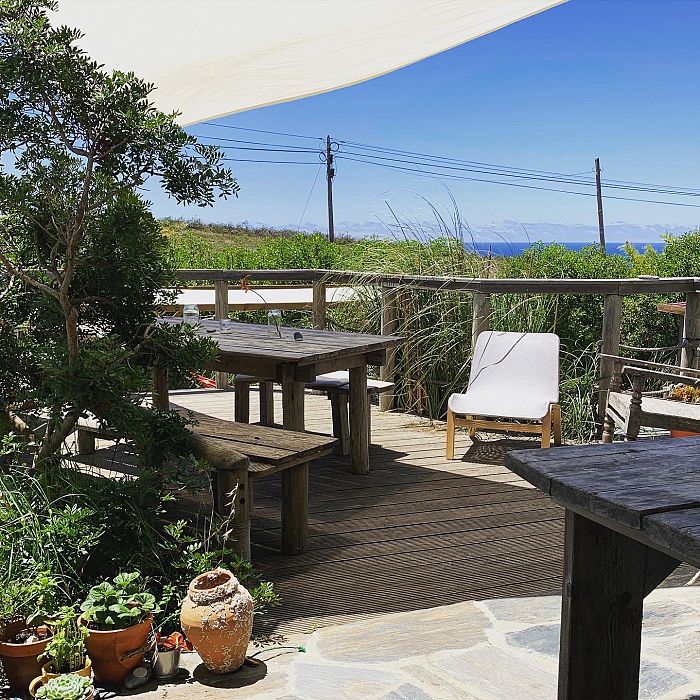 Your terraces
The better living rooms: more sun, fresher air, panoramic sea views, the sound of waves, Arrifana for real.

Your garden
Hammock… "Green is hope" …and if you look further, you will find little paths and secrets…from the surf camp, to the cliff, to the spot: Praia Arrifana!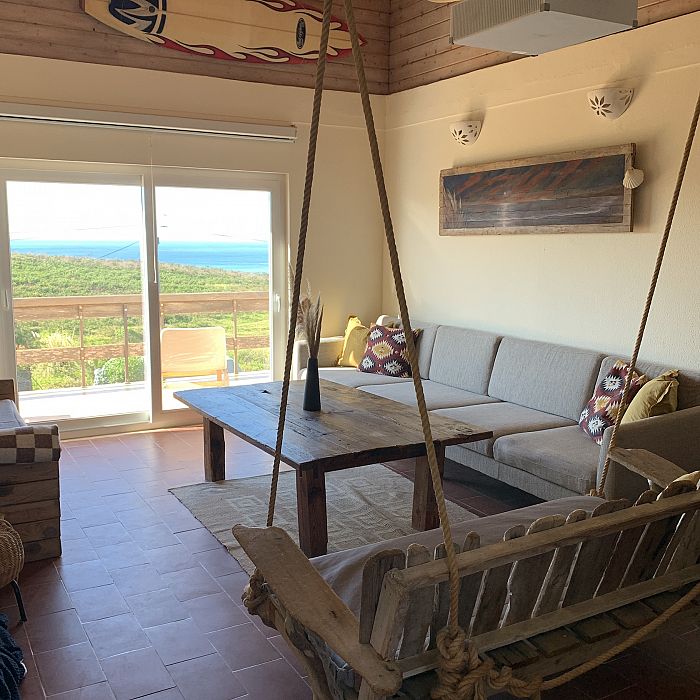 Your Service
Sure! Boards and neos…washing station. Kietsche for shopping and mountain bike or e-bikes for adventure in the nature park! Spikeball, table tennis, billiards, beach volleyball court… Housekeeper and
ALGARVE
ADVENTURE
team help where they can!
Prices Accommodation at Arrifana Point View Surf House
In high and low season (Mar-Dec) we rent out our beautiful surf house with surf equipment or surf lessons only.
1 night

(2 nights minimum)

34 €
7 nights

(incl. surfboard & neo & 1 day surf lesson)

278 €
All-In (7 nights incl. 5x surf course 1x surf fitness, 1x video support, extra theory, 1x surf

SKATE

session or

MTB

tour + incl. surf equipment)
450 €
double/twin room supplement per day/week
5/30 €
1 night

(2 nights minimum)

37 €
7 nights

(incl. surfboard & neo & 1 surf lesson)

299 €
All-In (7 nights incl. 5x surf course 1x surf fitness, 1x video support, extra theory, 1x surf

SKATE

session or

MTB

tour + incl. surf equipment)
509 €
double/twin room supplement per day/week
8/50 €
1 night

(2 nights minimum)

17 €
7 nights

(incl. surfboard & neo)

199 €
All-In

(7 nights incl. 4x course days + 7 tg. board & neo)

349 €
Double/twin room supplement per day/week
5/30 €
You want to book into our surf camp? Then go ahead: mob. +351 913 533 363 or directly online here.
book surfcamp